So we finally got the big stuff for the nursery all squared away. Not until after my baby shower will we have the nursery complete.  Once we get the nursery complete I'll post more pictures. But wanted to show you a sneak peak of what we got going on so far.
We got our furniture delivered which I'm very pleased with, it fits perfectly in his room. The room isn't the biggest room so we really only have room for a crib, dresser and glider. We also had painters come over and paint the baby's room. I was super nervous about the paint job working out, since the color scheme is so bright. It was definaltey a bold move but I'm so glad we did it because the white trim makes the whole room pop. It's definately a little boys room. As you will see I didn't want the traditional baby blue boy nursery. Not that there is anything wrong with it, I just wanted a more modern boys nursery.
I saw a blanket at BuyBuyBaby.com and I loved the colors of it. It was green, navy blue and light blue.  So I've had this blanket and color scheme in mind way before we found out we were having a boy. Once we found out we were having a boy we went straight to Buy Buy Baby and bought the blanket and I based the entire room around this one little baby blanket.
The blanket looks white, navy and green but it's actually a light blue not white.
Right after we found out we were having a boy and bought the blanket, I went straight to researching and looking at a ton of pictures online. There was two pictures that I really liked and stood out and really wanted to incorporate them into the room somehow. This one I loved with the maternity pictures and frames above the crib. I decided to put frames over the dresser rather then the crib because I knew that I wanted to put his name above the crib.
But I love having pictures around and  I thought it would be cool to have some maternity picture, newborn pictures and family pictures in his room. I liked the collage feel of the pictures the most.
I have loved all the pictures with the name above the crib so I knew I wanted to do that. I first wanted to do a wall decal which is seen below. That way we didn't have to paint anything on. And it looks so cute. I stumbled across this company Dali Decals online and planned on using them.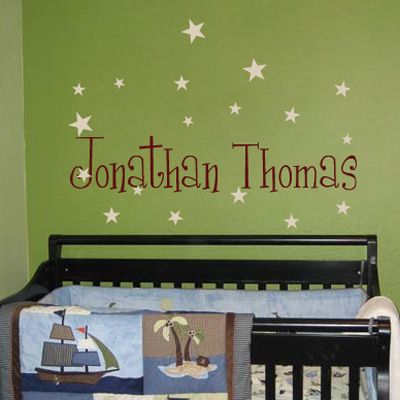 I even made a photo in photoshop with my ideas. I wanted the dark furniture since the walls would be green and knew it would look good against the green walls. And wanted to decorate in navy and light blue accents. At first I wanted to do a vertical striped accent wall but then decided that was a lot of work and that it may be too much for the size of room that we have. So I thought about doing one horizontal stripe with the little stripe above and below to bring in the colors of the blanket. My overall goal with the room was to have the paint be the main attraction since I decided to not go the route of a whole bedding set or theme.
So now that you kind of know where my ideas came from here is a sneak peak of how it has turned out so far. Instead of doing the decals, I actually found some wood white letters at the store and decided to go that route instead. It was a whole lot cheaper and they already had nail holes in the back so it was a lot less work for me which I liked. Plus I was really nervous about the decal. You only get one chance!  I opted out of the stars because we wanted to keep the clean, crisp look above his bed. Who knows I may find something to put on the wall but Nate likes it just how it is. So we'll see.
It turned out super cute and them being white letters really pop on the navy. The pictures below is where I put the picture frames. I already put up a picture of Zeus and Kala but will be waiting for my maternity pictures and some newborn pictures to put in there as well.
So that is the gist so far and of course my little helper …
Stay tuned for the complete nursery pictures in about a month =)
PS: The picture of my dog above is the actual paint color . The pictures above that kind of look a little lime green. It was not, it was more of a Kelly Green.
Category: Pregnancy